Playground Photograph Gallery
The MLUC Playground Committee was formed in October, 2002, with the aim of improving the church playground and limiting the legal liability associated with it. Its current members are:
Peter McDowell, co-chair
Carr Everbach, co-chair
Kim Alvord, Childcare Coordinator
Severn Falcone
Cheryl MacDonald
Ed MacDonald
Teresa Zink
Kevin Black, BOT representative
Below is a brief tour of some favorite playground items, for consideration by the Main Line Unitarian Church Playground Committee.
This playground is in Upper Marion Township, behind the Township building near the intersection of Rt. 23 and Henderson Road (from MLUC, head north on Waterloo and follow the signs to Rt. 202 N. Henderson Road is a left after the King of Prussia Mall).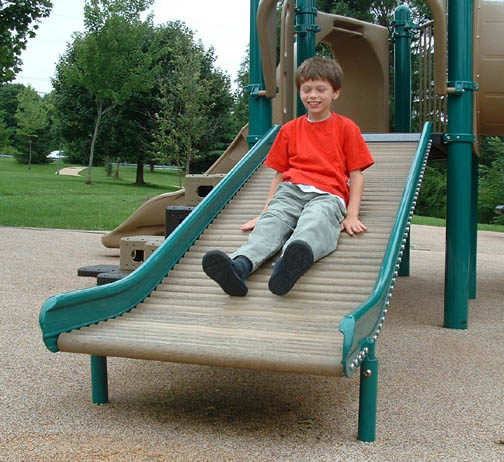 This roller slide is really fun, but long hair can get caught in the rollers (or fingers, if kids are trying to climb up the very slippery rollers)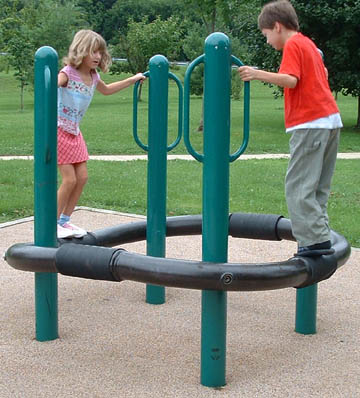 Very nice bouncing animals for smaller kids.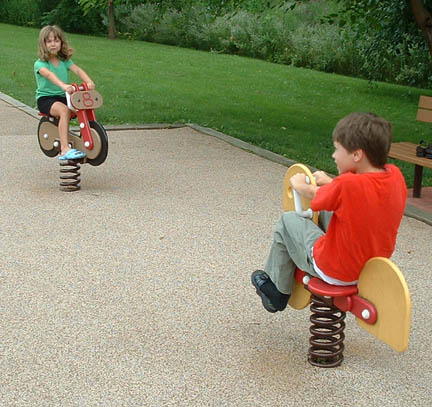 The quad bouncer shown has problems, however, in that the heavy rubber sleeves slide back from the springs underneath, possibly exposing kids to a pinch hazard.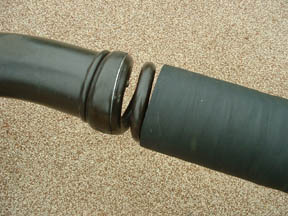 Here is the nameplate on the equipment in this park: Landscape Structures, Inc. Click on this name to get more information.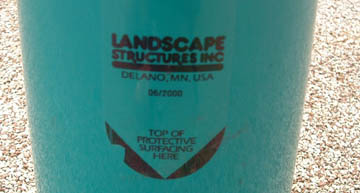 Another playground, called Belmont Park, is located on Anderson just after Dartmouth (Anderson is off of Henderson, quite close to the above park).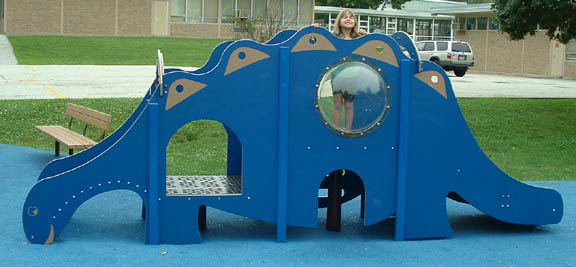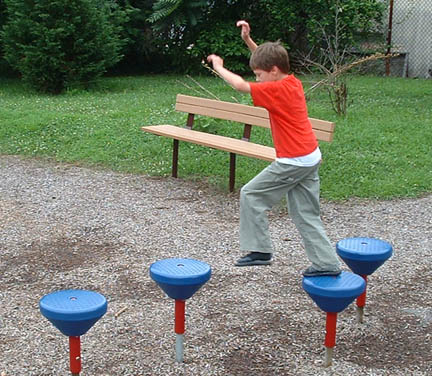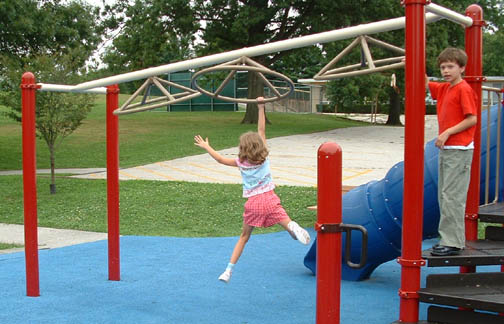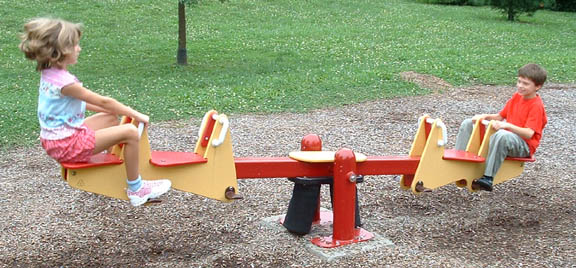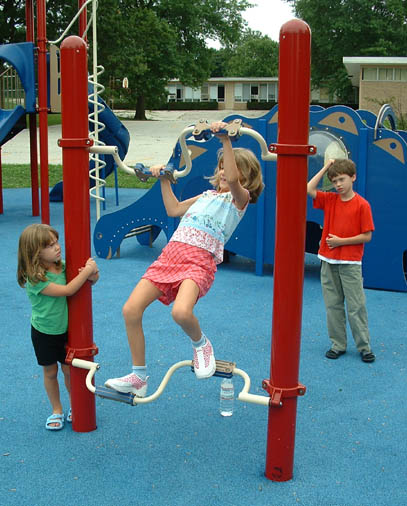 The surfaces are covered with a rubberized pad that can come in either tan or blue: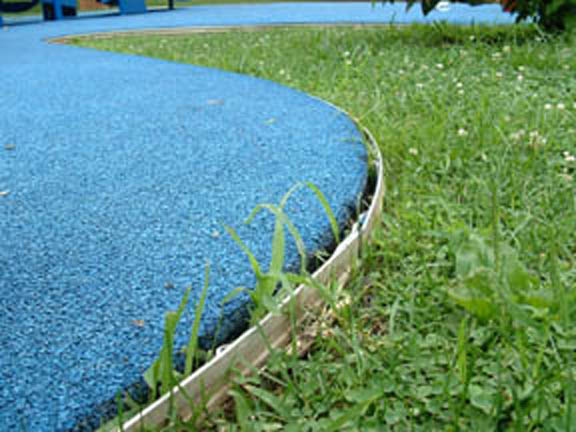 The next playground shown is in Broomall near the Lawrence Park Shopping Center. Newer photos, taken March 24, 2004, at the Veterans Park playground in Broomall, PA (Lawrence Road, near intersection with Sproul Rd):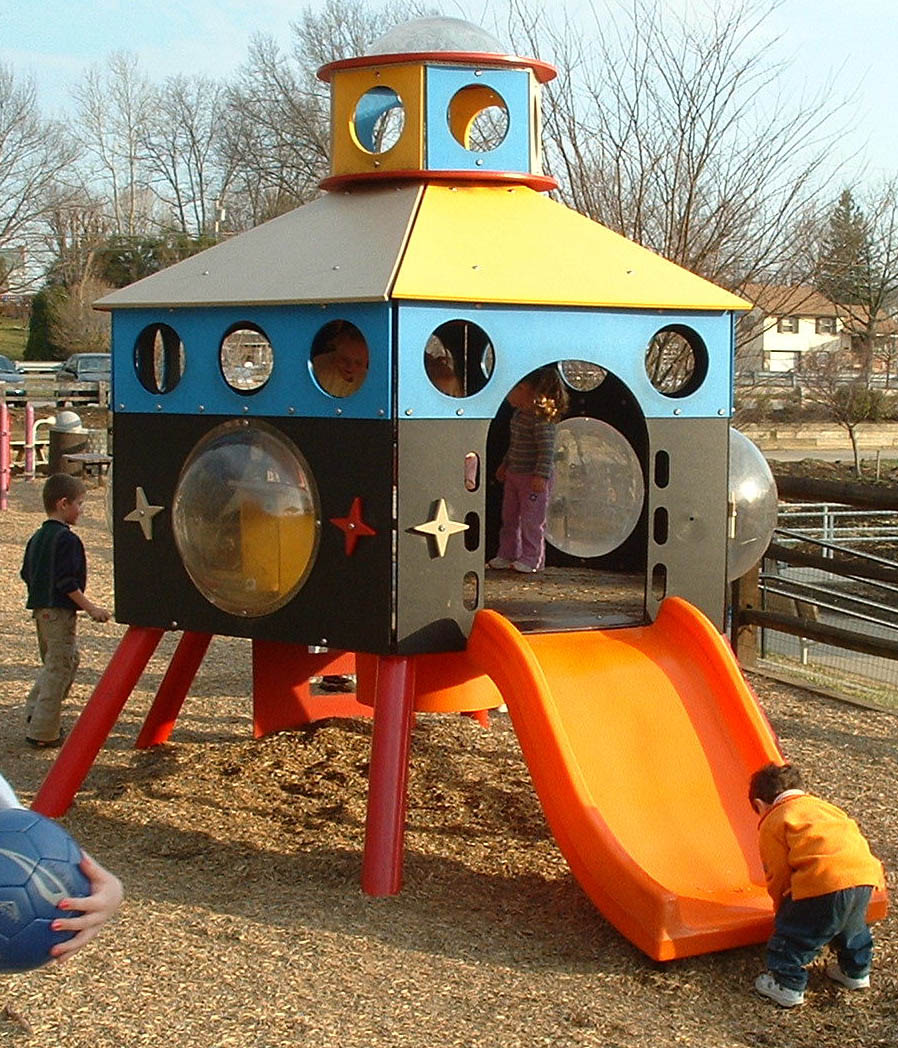 3. A playhouse in the shape of a space ship (for the little kids)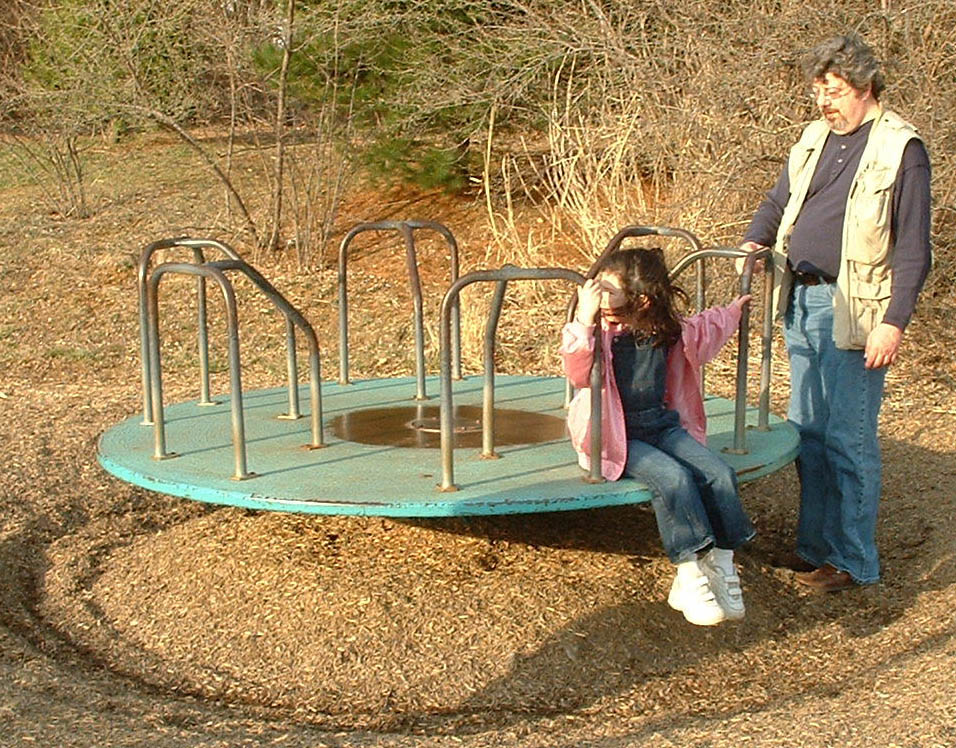 The classic spinaround carousel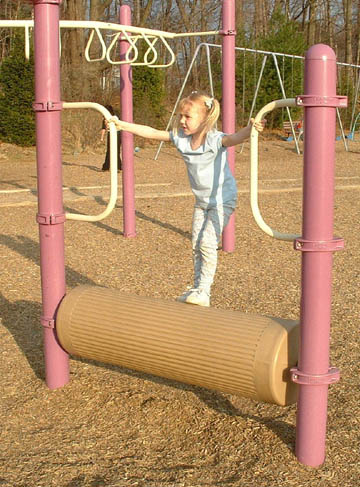 A particularly nice roller-walk
And it is worth remembering that a kid on a small ridge can enjoy balancing, especially if the ridge forms a serpentine meander: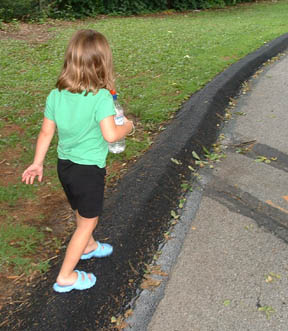 This playground is in Concord Township, PA, near the Garnet Valley High School, Middle School, and Grade School. To get there from Philadelphia or points East, take Route 1 West/South past the Granite Run Mall and the Franklin Mint. Turn left (South) on Valley Brook Road at the stoplight, then right onto Smith Bridge Road. Follow Smith Bridge until you pass the Garnet Valley schools, and the playground is on your right after the Concord Township Library.
The playground was built as a community project with the help of Robert Leathers & Associates in 1992.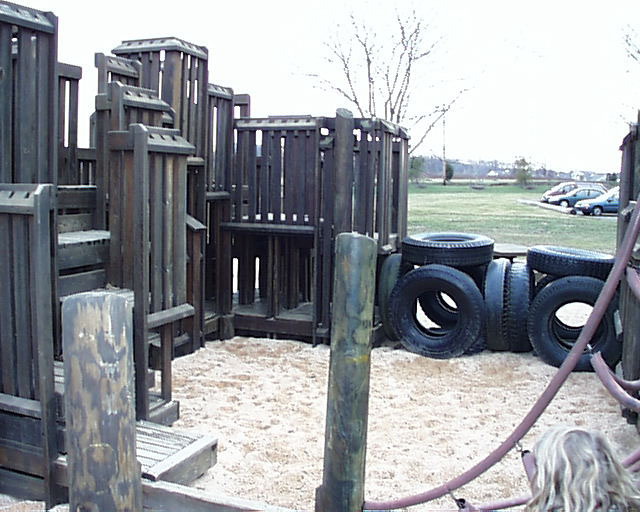 The playground is constructed almost entirely out of pressure treated wood and recycled materials. Shown above is a tire bridge reinforced with chains connecting two wooden sections containing many levels and passages.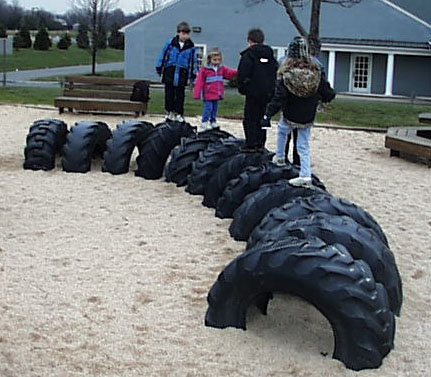 Large tractor tires (worn smooth and obviously recycled) half-buried in the ground (which in turn is covered with sand or wood chips) form a climbing structure.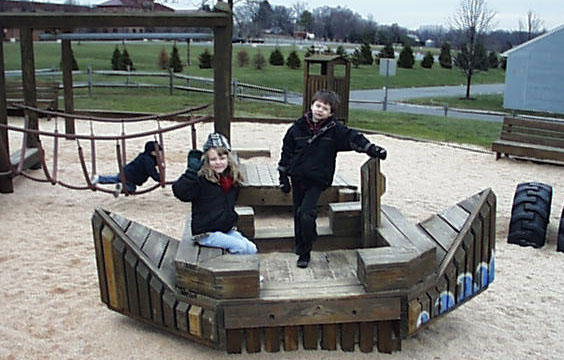 A "boat" made of wood that rocks on a base made of several tires serves as a play area for littler kids, while still surrounded by the bigger-kids play equipment. I like the idea that some items of equipment might be intereting mostly to little kids, while not confined to a separate "baby" part of the playground. The tire climbing structure is seen at right, and on the left, a chain bridge, shown in more detail below: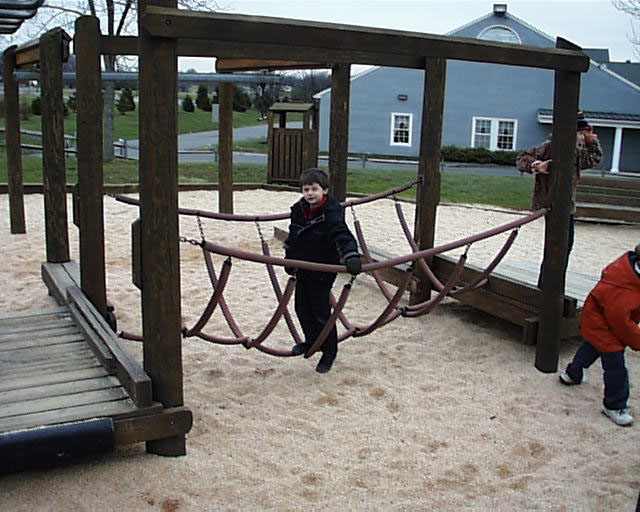 The chain bridge chains are covered in automobile radiator hose, a cheap, indestructible material, and the distance below the bridge is about 8 inches.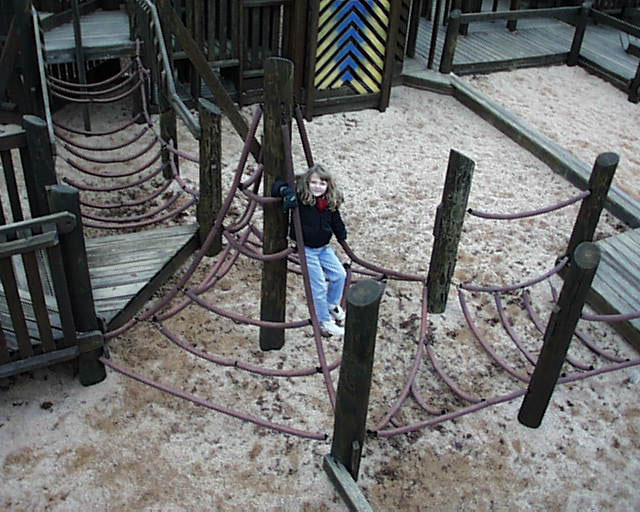 This shows the same idea as the chain bridge, but for a chain tower. Big kids could conceivably climb up high, but cannot reach the top of the phone-pole to which the chains attach, and therefore are less likely to fall on those below. Note the alternate-design chain bridges on either side, connecting to the chain tower.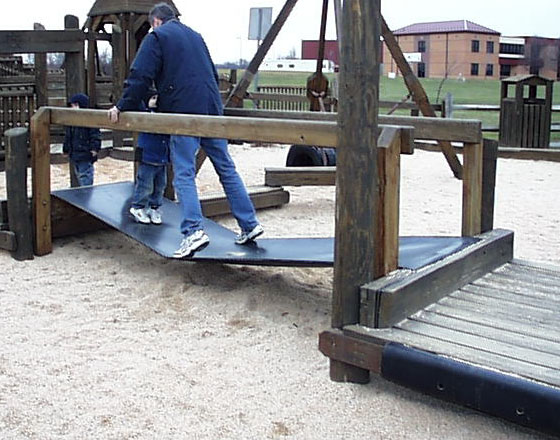 Another cheap-easy-fun idea, a rubber bridge made out of neoprete sheet, firmly screwed down to platforms at both ends. An inch-diameter hole is made at its center to allow drainage after rain. This bridge has had four or five adults jumping up and down on it simultaneously, and was not broken.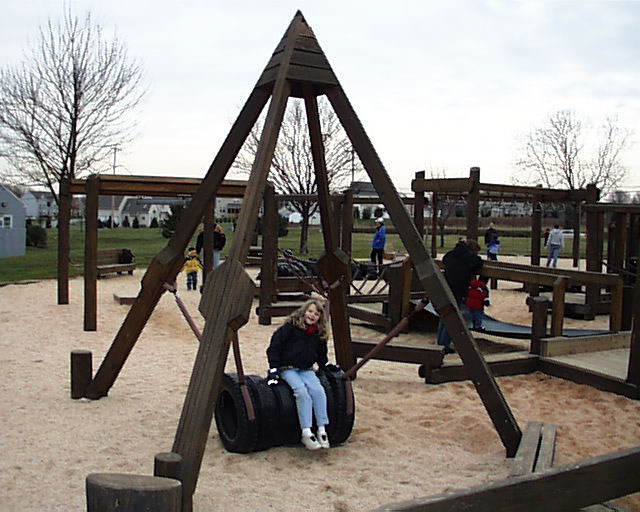 A large pyramidal structure of pressure-treated two-by-sixes is used to suspend a line of tires forming a rocking/swinging horse. Again, the suspending chains are clad in radiator hose and the tires hang on two sets of chains running inside them.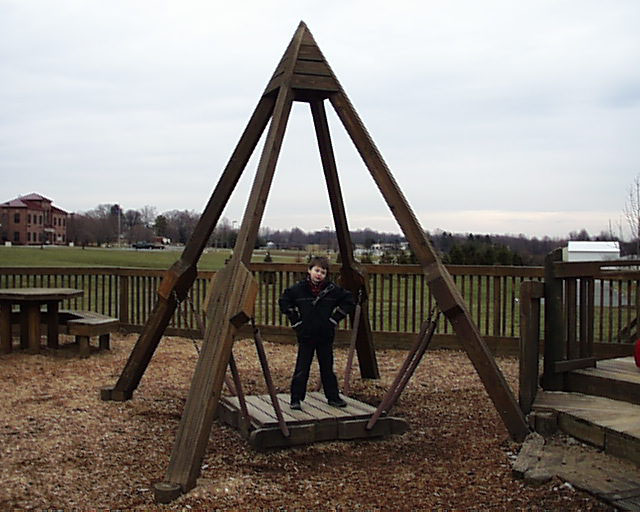 A similar pyramidal structure can support a platform, suspended just inches above the ground, which rocks about a foot in any direction while keeping mostly horizontal. I call this a "wiggle deck" and it is very popular at this playground.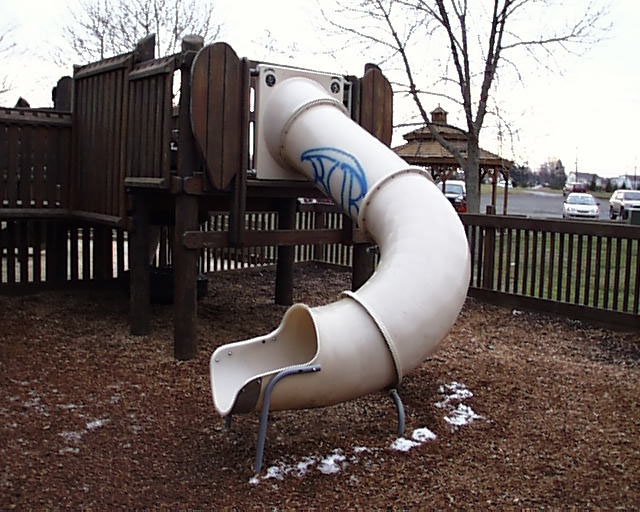 Not everything at this playground is made of wood, rubber, and tires. The tubular slide above is made to look like an elephant's trunk, and is safe yet very fun.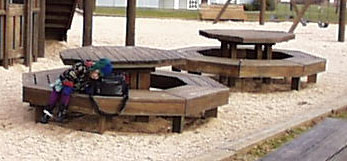 Surrounding this playground are octagonal tables made of pressure-treated two-by-sixes for adults to sit and chat, or picnic with kids, while keeping an eye on the playground.
Other items I think might be good to have appear at the playground near the Media Elementary School in Media, PA.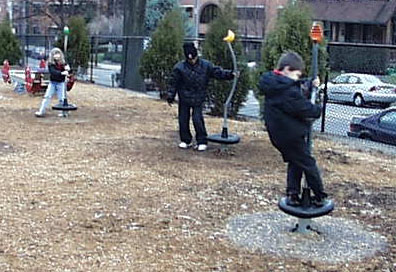 These are individual platforms that rotate on vertical shafts and thereby allow kids to spin around and get dizzy, safely. They are a commercial product, company unknown but I could find out. Here are some close-ups: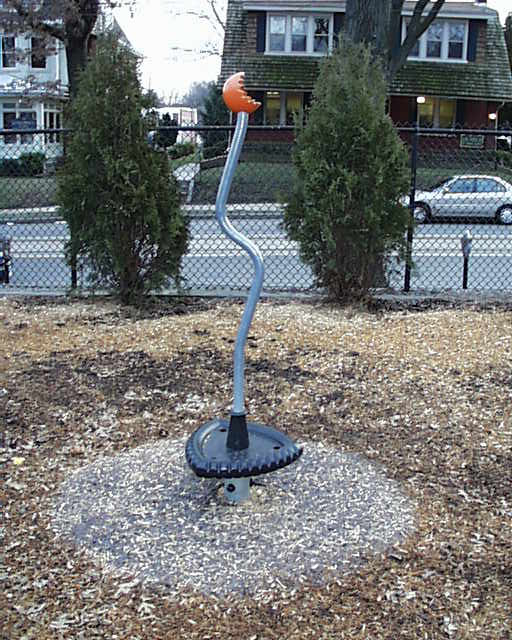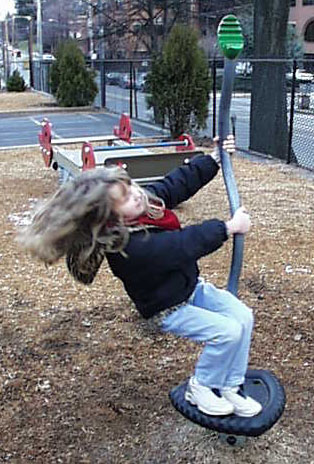 And at the Media Elementary School playground, there is also a set of "mushrooms" that pop up and down when you step on them. These are arranged to form a path to some other mushrooms that swing on chains from a frame. Again, company unknown, but I could find out who makes them: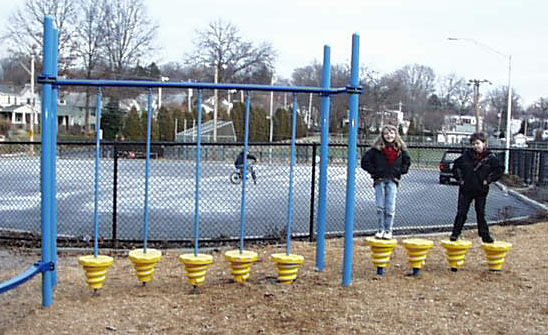 Finally, just to show what I want to avoid at MLUC, here is a joyless municipal playground on the way to the Concord Township playground (mostly this playground is vacant. Kids and parents obviously prefer the wood-tire playground!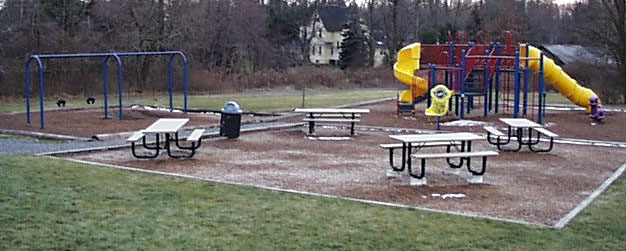 More to come, as I bring my camera to Boston tomorrow...
From Lexington, MA, another wooden playground with a few nice elements we could copy: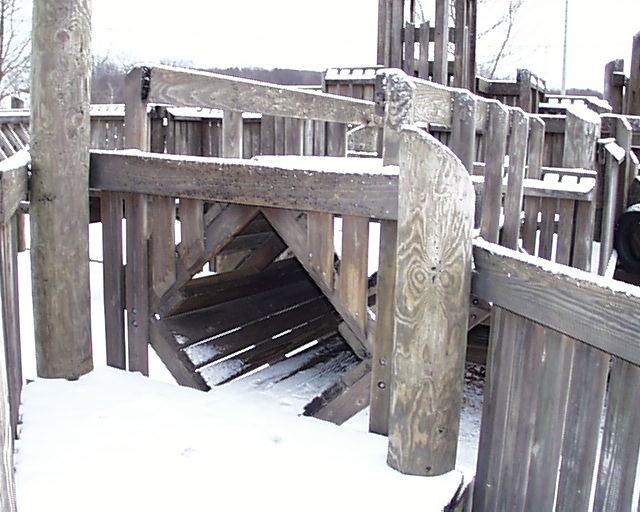 I like the wooden tunnel, which can be climed on as well as through, and might make a nice replacement for the concrete pipe, now boarded up, nested in rocks at MLUC.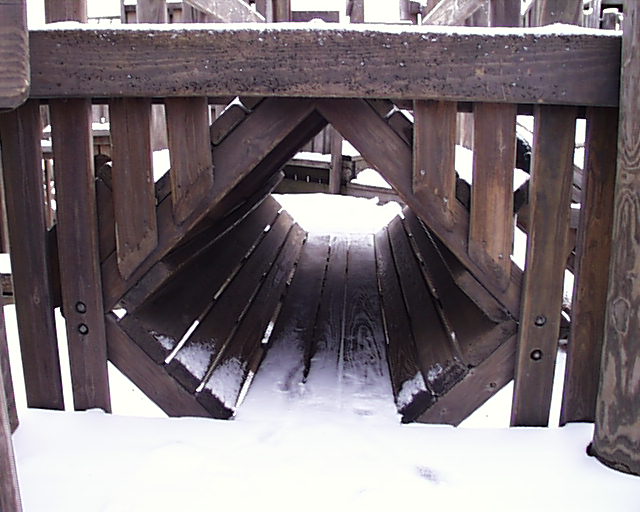 Obviously these pictures were taken just after a snowfall, so no kids playing then, but you get the idea.
And now an outdoor musical sculpture made of PVC pipe from the Acton, MA, Discovery Museum: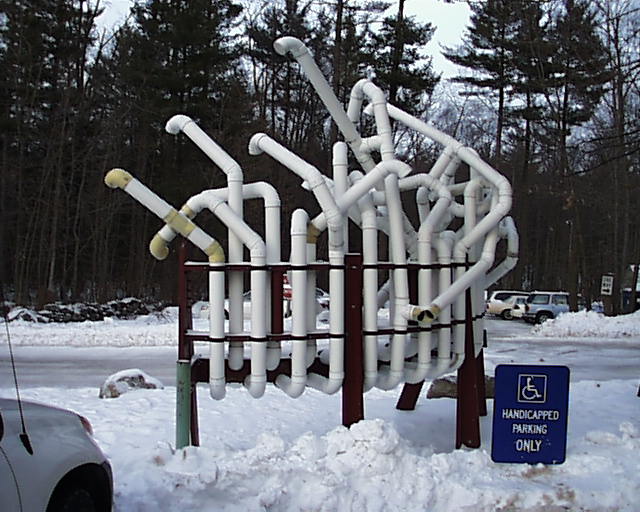 This was the inspiration for my idea about PVC pipe toe- and hand-holds for a climbing structure, the serpentine wall, that would double as a giant musical instrument.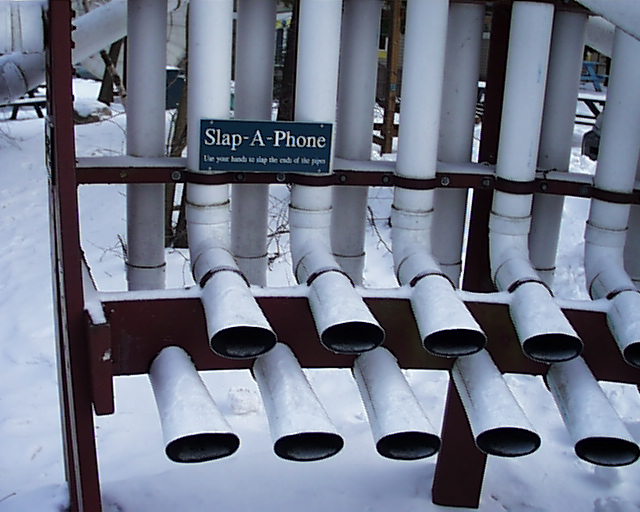 When struck with the hand or a wooden stick/mallet, each pipe produces a distinct, rather low, tone based upon the length of pipe to which it attaches.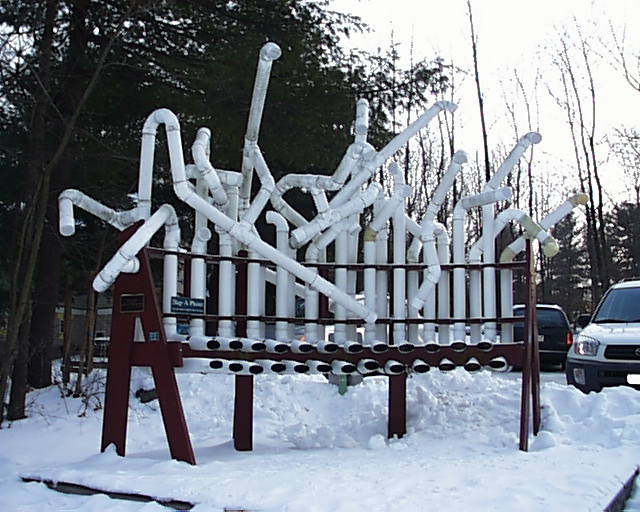 Can you imaging these pipes potted in cement and used for climbing?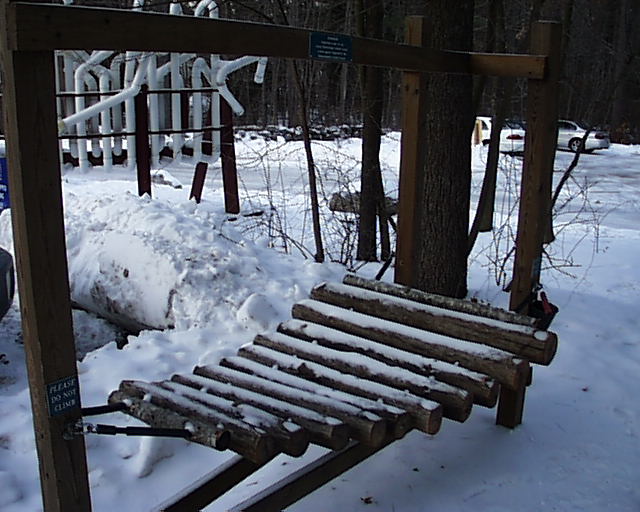 An outdoor xylophone made of logs is fun, too, and cheap to make. Sounds just like a marima when I've tried it!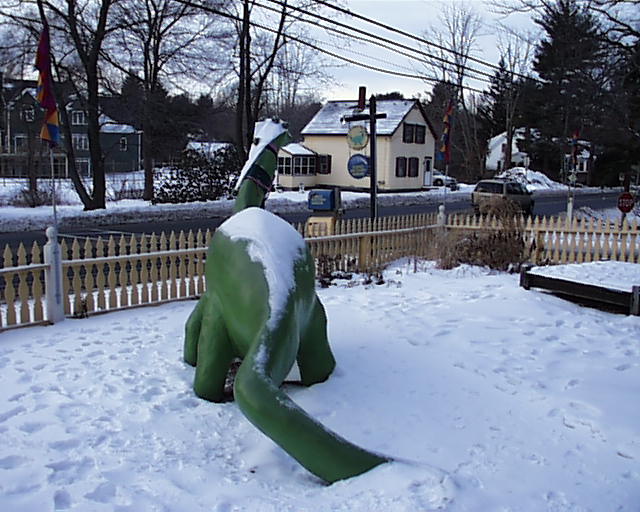 This large cement dinosaur is a very popular climbing structure, too, and serves as the Discovery Museum's mascot and logo. Maybe MLUC could have some kind of animal or creature, too, that kids climb on or otherwise identify with. What would be a good UU mascot?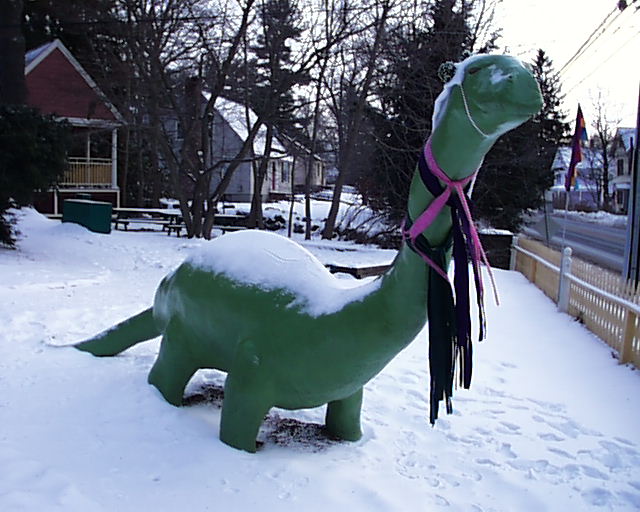 Photos immediately above taken 1/2/03 by E. Carr Everbach. No rights reserved.
Further playground ideas discussed by the Playground Committee:
A 5-foot-high creekstone wall with plastic or ceramic pipe ends protruding from the wall surfaces on both sides to act as a horizontal climbing wall. The wall would be an "S" shape and would eventually replace the rock pile.
A treehouse with a tubular slide (spiral or wiggly) whose only egress is through a vertical maze (so no one can fall). Such a maze is in the Boston Children's museum: horizontal layers of waterproofed plywood with three-foot-diameter holes drilled randomly through each layer so that no holes line up vertically. The spacing between layers is also about 2.5 feet, and the edges are covered with chain or mesh to prevent a kid's falling out.
A climbing tunnel, a la the Please Touch Museum 1995-1999. This consists of a very wide-mesh net made with inexpensive galvanized steel chain that drapes in a upward U shape, supported by timbers or metal posts. Kids can climb through the tunnel by hanging onto the inside or outside of the U, but they can fall no farther than the bottom of the U (about 3 feet).
Tire horsey, from a playground in Thornbury, PA (located past the Granite Run Mall). Eight spare tires, forming a cylinder, screwed to a chain that hangs in a wooden frame that has enough slack to swing and wobble slightly. Kids of all ages love to ride on it.
Bouncy rubber mat, from the Exploratorium in SF. A sheet of thick neoprene rubber reinforced with fabric that is stretched horizontally across a gap. The sheet has enough in-plane elasticity that it stretches and bounces, but not nearly so much as a trampoline. (could be used as a bridge)
Pogo stick swings. Hanging bungji cord surrounded by telescoping PVC pipe sections supporting a seat that bounces vertically, with or without sideways swinging.
Coupled-pendulum swings (from Franklin Institute outdoor playground): A regular swing set but with each pair of swings attached to a swinging bar. If only one kid swinging, then just a swing. With two, each swinger affects the progress of the other, making for fun and surprising interactions.
Walking boards. Kids love to see if they can get from here to there without touching the ground. Have wood boards half-buried in the ground so that they can balance and walk around the perimeter of the play area without falling off.
Labyrinth (a la Chartres Cathedral or the First Parish Unitarian Universalist church of Concord, MA). A pattern painted or set in stones or otherwise visible in which the goal is a) to meditate while following a tortuous path (users over age 40) or b) to traverse as quickly as possible (if under age 25).
A Gaga court (click here to see an example). This item was implemented in May, 2004, by the Seventh Grade churchschool class. Here are the draft rules of the game.
Responses, written on large flip pads, to these suggestions from church members in Spring 2003 and Fall 2003:
Design/CAD work - Dan Levine
Remove or spread out the rock pile.
Rock pile: Space the rocks in a serpentine for kids to step from one to the next. Put playhouses or climbing activities at each end of the rock "chain".
Add a tubular slide and seesaw.
Add Monkey Bars.
Benches (for parents close to play area). Yes! (added later)
Add a big slide with "rolley pipes".
Wall ball court and a tree house.
Add GAGA Court (or else…) (?)
GaGa Court !
Swings
Like it as is. Keep out plastic! We like the rocks. The tunnel is great! (It is also very safe!)
Benches, Picnic Area, Coffee available outside (Starbucks preferably)
Fence at back edge.
Swings and good slides.
Rocks are dangerous!
Tunnel is dangerous. Once I was coming out of the tunnel and someone jumped on me!
Needs more rocks! Yea!
Needs benches for parents.
Swings
Love what is there now - don't put in the plastic playgrounds that are in all the parks now, please!!!
Needs swings please !!!
We like the rocks.
The tunnel is great - (It should be safe if it's reinforced).
Fine the way it is.
Get rid of the rocks please!
Newer updated equipment pls! (cmacd)
Children seem to enjoy the rock climbing. It would be nice to be able to keep it, but maybe make it safer for the younger kids.
We love the playground. We could use though a slide and maybe a swing set. We like very much that this playground is so different from the everyday "plastic-safe-but no fun" structures that we see everywhere. (Claudia Silverman and kids)
I agree with Claudia (above). The undefined structure allows children to use their imagination. As long as children are supervised on the playground, I believe they are safe. (Donna)
Slides yes, swings no. Different ages make swings too dangerous. (Lots of preschoolers get kicked in the head.) Maybe just infant swings.
Tree House and Spiral Slide! (Rachel Silverman)
The pipe should be sealed - might teach kids that sewer pipes are "OK" to play in. Would consider idea of changing appearance of pipe to distinguish safe structures from dangerous drain/sewer pipes. (Mark Russo - Kate & Anna's Dad)
Response to Mark (above): Cover opening with brightly colored paint on rubber (to avoid head boo-boos and not look like sewer pipes).
The two white strips that cover the gaps in the bridge are very slippery and children are sliding and falling. A better traction surface would serve best.
Make the pipe look like a cave. It is fun for the kids.
[The horizontal climbing wall] needs "padding" at base in case of falls.
Any way to keep the pile and add the wall?
Good idea, but the rock pile is good, too.
Sounds dangerous.
My understanding is we want to replace the rocks because they are "not safe" and are a liability. If the climbing wall solves that issue then great. Otherwise keep the rocks.
Please send further comments to the webmaster or to the MLUC playground committee as a whole. Thank you for your time.
Last modified 3 January 2005